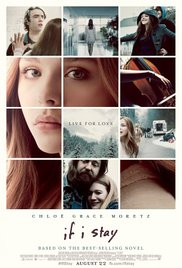 Pisci: Shauna Cross (screenplay), Gayle Forman (novel)
Glumci:
Chloë Grace Moretz, Mireille Enos, Jamie Blackley, Joshua Leonard
Opis: Life changes in an instant for young Mia Hall after a car accident puts her in a coma. During an out-of-body experience, she must decide whether to wake up and live a life far different than she had imagined. The choice is hers if she can go on.
OBAVESTENJE! Postovani, u slucaju da ne mozete da postite video sadrzaj, iskljucite ad-block ili/i pokusajte sa drugim pretrazivacem, napominjemo, mi ne streamujemo video sadrzaj tako da ne mozemo ni uticati na njega, sve reklame sto se pojave su reklame od samog hostera, hvala i uzivajte u gledanju, Vase ONLINE-SERIJE.COM