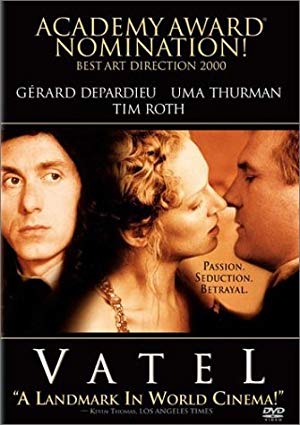 Pisci: Jeanne Labrune, Tom Stoppard (English adaptation)
Glumci:
Gérard Depardieu, Uma Thurman, Tim Roth, Julian Glover
Opis: Vatel is in charge of the reception to the king Louis XIV. With the prince's political ambitions at stake, its essential to please him. But when he falls in love with the king's lover, passion and duty seem to contradict each other.
OBAVESTENJE! Postovani, u slucaju da ne mozete da postite video sadrzaj, iskljucite ad-block ili/i pokusajte sa drugim pretrazivacem, napominjemo, mi ne streamujemo video sadrzaj tako da ne mozemo ni uticati na njega, sve reklame sto se pojave su reklame od samog hostera, hvala i uzivajte u gledanju, Vase ONLINE-SERIJE.COM